New Miami Hurricanes spread offense doesn't mean abandoning running game
One of the false perceptions of the spread offense is that it leans heavily on throwing the football. New Miami Hurricanes offensive coordinator Rhett Lashlee has relied equally on the run and the pass throughout his career.
Lashlee led a prolific offense at SMU in the last two seasons. The Mustangs had over 4,000 yards passing as a team, a 1,000-yard rusher and a receiver with over 100 receptions and 1,000 yards. Expect more of the same when Lashlee calls the plays for the Miami Hurricanes. Lashlee brings a fresh approach to Coral Gables.
Lashlee began his career as a graduate assistant at Arkansas State under Gus Malzahn and followed him to Auburn as a graduate assistant. After one season as the offensive coordinator and QB coach at FCS Samford Lashlee returned to Arkansas State for a one-year stint in the same positions with the RedWolves.
Lashlee returned to Auburn from 2013-16 as their offensive coordinator and QB coach. Malzahn was the play-caller with Lashlee overseeing the offense. That's when the Hurricanes' newest hire chose to leave for Connecticut to completely run his own offense. From Storrs, Lashlee was hired at SMU where he coached in 2018 and '19.
If the Miami Hurricanes offense runs precisely under Lashlee there will be a balance for the Hurricanes offense. Lashlee spoke to Christy Cabrera Chirinos with the official Miami Athletic Website HurricaneSports.Com about what the expectations should be from the new to be installed spread offense.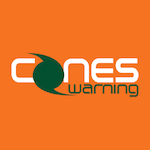 Want your voice heard? Join the Canes Warning team!
Write for us!
"I think there's some misconceptions that when you spread the field, it's kind of finesse. That's not the case. I believe in balance. We're going to be able to throw the football, but we've also got to be able to run the football and be physical at every position. We just tell our guys fast and physical. We want to play fast.

We want to be physical at every position and when they buy in, they start to see the advantages and over time, it just really starts to be something that everybody buys into and believes in. It's a lot of fun."
As the offensive coordinator at Auburn, Lashee oversaw a Tigers offense that produced a 1,000-yard rusher in each of his four seasons. The Tigers ran the ball a minimum of 586 times in 2015 and had 729 rushing attempts in their peak season in 2013. Lashlee continued to rely on the ground game as the OC at UConn and SMU.
This past season Xavier Jones averaged 5.2 yards per carry on his way to 1,276 rushing yards and broke Eric Dickerson's school record with 23 touchdowns on the ground. Jones added 20 receptions for another 90 yards and two more touchdowns. He was one of the most dynamic running backs in the country in 2019.
That all leads to Cam Harris and Robert Burns returning at running back and the editions of freshmen Don Chaney Jr. and Jaylan Knighton at the position. Lashlee is going to have a lot of complementary skilled players in his backfield to chose from in what has been lauded as a dynamic offense.